2017 Update สินค้ารุ่นใหม่ Support Ultra HD

++ การ์ดตัดต่อ Blackmagic Intensity Pro 4K ราคา 8,400 บาท พร้อมติดตั้ง ใช้ได้ทั้ง MAC Pro 2012 และ PC
ราคาสำหรับลูกค้ามารับสินค้าและติดตั้งเอง ชำระเป็นเงินสด ลดเหลือ 7,900 บาท เสียส่งซ่อม RMA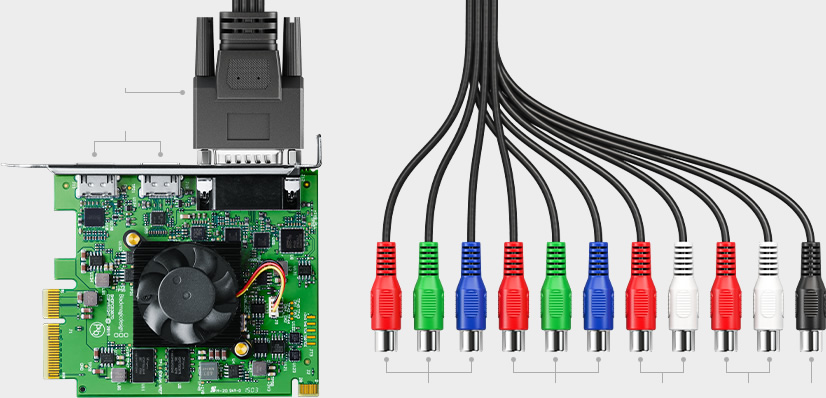 Standards
Ultra HD Support 3840x2160p30
HD Format Support 1080p24 1080i50, 1080i59.94, 720p50 and 720p59.94.
SD Format Support 625/25 PAL and 525/29.97 NTSC.
HDMI Video Sampling 4:2:2.
HDMI Color Precision 4:2:2.
HDMI Color Space YUV 4:2:2.
HDMI Audio Sampling Television standard sample rate of 48 kHz and 24 bit.
Card type PCI Express 4 lane, compatible with 8 and 16 lane PCIe slots.
การ์ดตัวนี้เป็นรุ่นที่มีราคาถูก สินค้าวางอยู่ในระดับล่าง แต่สามารถตัดต่อได้ถึง 4K , Full HD 1080P24 (ไม่ support 1080P50 , 1080P59.94)
ซึ่งในรุ่น Decklink จะมี HD/SD SDI in/out , Genlock , RS422 , AES/EBU , ช่องเสียงแบบ XLR ซึ่งไม่มีใน Intensity Pro
หากไม่ได้ใช้ความสามารถตรงจุดนี้ การ์ดรุ่นนี้จะเป็นการ์ดที่ตอบสนองความต้องการของท่านในเบื้องต้นได้เป็นอย่างดี
Intensity Pro 4K is the only consumer video capture and playback card that's built using the same broadcast quality video components that professionals in the film and television industry use! Files can be saved in professional compressed formats, like ProRes and DNxHD, or as fully uncompressed 10-bit video
10 Bit Color Depth Smooth color gradient.

8 Bit Color Depth Visible steps in gradient.

สิ่งที่ท่านจะได้รับเมื่อใช้คือ
- สามารถ Capture ได้ทาง HDMI , Componenet , Composite , S-Video
- สามารถ monitor ภาพทางช่องต่อ HDMI4K , Component , Composite , S-Video ได้เรียลไทม์ไม่มี Delay หรือหลุด Sync
- สามารถ Capture ด้วยโปรแกรมที่แถมมาให้ โดยที่ไม่ต้องเปิด Premiere Pro เพื่อ capture และ สามารถ Playback ภาพได้ด้วย (DVR)
- คุณภาพของ File และภาพที่ได้รับจะสูงกว่าการตัดต่อแบบ DV , Firewire ที่มี Color Space เพียง 4:1:1 เนื่องจากจะประมวลผลอยู่ที่ 4:2:2 ด้วยคุณภาพแบบ Uncompress , M-jPEG Codec
- และสำหรับผู้ืั้ใช้งาน โซนี่เวกัสร่วมกับการ์ดตัดต่อ การ์ดรุ่นนี้สามารถใช้งานได้กับ Adobe CC , Sony Vegas Pro 9.0 , Edius Pro 7-8 (Not officially supported) , AVID 7
สามารถอ่านรายละเอียดเพิ่มเติมได้ที่นี่
https://www.blackmagicdesign.com/products/intensitypro4k